Window Cleaning is usually considered to be a laborious job and most people try to avoid it. However, one is forced to keep one's windows clean as a spotless glass exterior does present a good picture. This also fulfills the true potential of the glass window. Spic and span glass windows tend to add value to a building. The glass should dry soon after the window is cleaned, else dirt might settle on it all too quickly.
One is often tempted to hire a window cleaner or a window cleaning service in order to do this job. This may turn out to be expensive, besides this does intrude on your privacy. Self cleaning glass is another option and makes use of new technology. This is rather expensive, but is well worth the extra expense as it saves you so much on cleaning. Natural elements like sun and rain are used by this kind of glass to clean itself.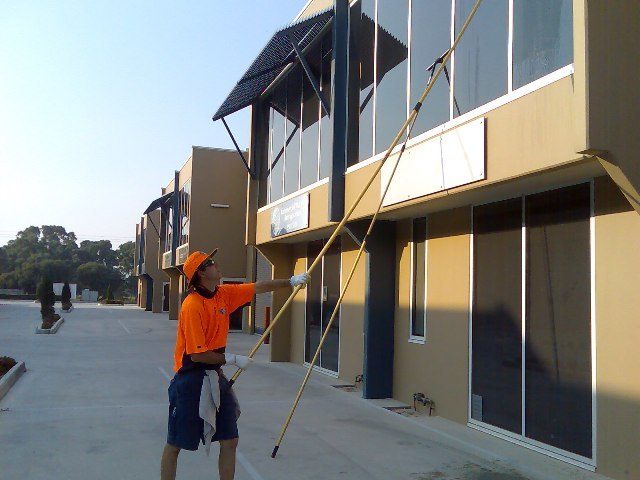 You can make use of the following tips when you next clean your glass windows, without hiring any help. Just sticking to a few basic do's and don'ts will help you do the job quickly. You just have to try it once and it will be easier for you the next time. You must make sure that you have the right cleaning implements for cleaning window glass. A squeegee with a handle on one side and a soft rubber blade on the cleaning side is very useful in cleaning glass, especially when the glass is big in size. Use ammonia-based washing liquid for cleaning. Ammonia can also be added to a bucket of warm water, or, alternatively, white vinegar can be added. This makes an effective medium for window cleaning.
Do not clean windows on a hot day. The heat dries up the windows even as you are cleaning and this leaves ugly water marks on the window. You must be able to dry the window manually. Only then can you avoid marks. Large windows on the outside of buildings can be pre-cleaned using hosed water. This loosens any hard dirt that may be present. This makes the actual cleaning later on a little easier.
Make sure that your cleaning solution or rinse water is really clean. It does not make sense when you try to clean window glass with dirty solution or dirty water. The water in the bucket should be cleaned as and when required. Wipe the windows dry as soon as possible. Otherwise they may dry on their own and leave a water mark. Keep a lot of dry cloth, absorbent rags or paper toweling handy. This will help you do the job quickly.
Newspaper is used by most people to give a polished look to the glass after drying. This adds some extra shine to the just cleaned glass. You can eliminate small scratches on the glass with toothpaste. Just scrub the glass with a little bit of paste and the scratches just vanish! Now your window is as good as new and is sure to get admiring glances.